Complete Your Smile
If you're missing teeth due to an accident, gum disease, or poor oral hygiene, dentures can help replace those teeth so you can smile with confidence. Dentures also help to improve the function of your teeth and speech.
Visit your dentist today to see if dentures are a suitable option for you.
Schedule an Appointment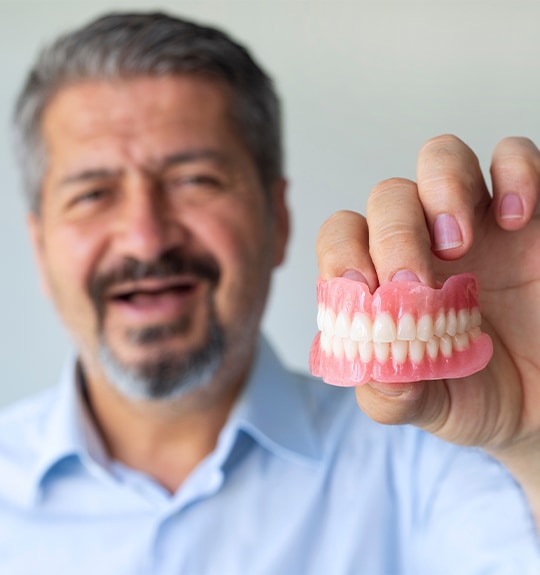 Types of Dentures
When you visit your dentist, we'll assess your teeth and overall oral health to determine what type of dentures are right for you. Once we decide what will best meet your needs, we'll take impressions to begin custom-creating your dentures.
Types of dentures include:
Complete Dentures—replace all your natural teeth and are held in by suction
Partial Dentures—replace a few missing teeth and are held in by clasps that fit onto surrounding teeth
Overdentures—removable dentures that fit over your natural teeth or dental implants
Caring for Your Dentures
Just like you clean your natural teeth daily, your dentures need the same treatment. Plaque and tartar can still build up on your dentures, which can lead to stains and bad breath, or spread to your natural teeth causing gum issues and cavities.
When you're ready to clean your dentures, remove them from your mouth and rinse any debris or food particles off. You can use a soft toothbrush and denture cleaner to gently scrub all surfaces and clasps where bacteria can collect.
Remove your dentures at night and soak them in warm water to give your mouth a rest.
Can You Benefit from Dentures?
Dentures are a customized solution to replace your natural teeth and gums. Your dentist can assess your teeth and oral health during a dental exam to determine if dentures are right for you. Book your next appointment today.
Schedule an Appointment
Our Location
You can find us off Moberly Rd., right on the seawall. Our clinic is fully wheelchair accessible with a beautiful view of the water.

Our Address
676A Leg In Boot Square

Vancouver

,

BC

V5Z 4B4
Hours of Operation
Monday

:

9:00 AM

–

5:00 PM

Tuesday

:

9:00 AM

–

5:00 PM

Wednesday

:

9:00 AM

–

5:00 PM

Thursday

:

9:00 AM

–

5:00 PM

Friday

:

10:00 AM

–

4:00 PM

Saturday

:

Closed

Sunday

:

Closed
Schedule an Appointment