Protect & Preserve Your Oral Function
Oral surgery can help improve the look and function of your mouth.
At False Creek Dental Centre, we offer a number of surgical procedures to help restore, repair, and address oral needs in your teeth, mouth, and jaw. Our dental specialists can create a personalized treatment plan for your needs.
Start by scheduling a consultation with us today to determine the best option for your dental needs.
Schedule an Appointment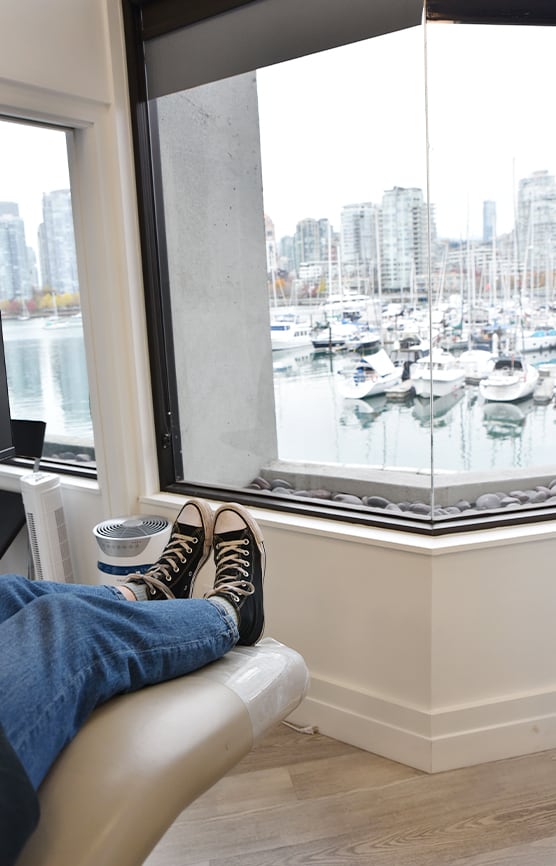 Who Needs Oral Surgery?
Your dentist may recommend oral surgery if you have:
Bone loss
Oral cancer
Sleep apnea
Gum disease
Severe tooth decay
Broken, missing, or impacted teeth
Temporomandibular joint disorders (TMJ)
Benign oral pathology (noncancerous lumps)
If you experience discomfort or pain, issues with oral function, or concerns about your smile, contact us to see how we can help you.
Oral surgery encompasses a number of oral issues and procedures that can affect the quality and function of your teeth and jaw.
What to Expect
Pre-Operative Care
We can complete a thorough consultation to determine the right treatment for your dental issue. This involves a full evaluation of your teeth, gums, jaw, joints, and oral health. We may use X-rays and scans to get a full picture of your dental status and tailor your treatment plan.
During Your Procedure
We'll inform you when and where your procedure will be performed, and provide you with comprehensive pre- and post-operative care instructions to help maximize your results.
The length of your procedure will depend on your treatment plan and the severity of damage sustained in your mouth. We can discuss all of this with you before your procedure.
Post-Operative Care
Following your procedure, it's critical to follow your post-operative instructions for care. These instructions help prevent infection, bleeding, and other complications.
If you have any questions or concerns following your procedure, please don't hesitate to contact us.
Schedule a Consultation Today
If you need oral surgery, or you're not sure what you need, book a consultation with our team. We can help you look and feel better behind your smile.
Schedule an Appointment
Our Location
You can find us off Moberly Rd., right on the seawall. Our clinic is fully wheelchair accessible with a beautiful view of the water.

Our Address
676A Leg In Boot Square

Vancouver

,

BC

V5Z 4B4
Hours of Operation
Monday

:

9:00 AM

–

5:00 PM

Tuesday

:

9:00 AM

–

5:00 PM

Wednesday

:

9:00 AM

–

5:00 PM

Thursday

:

9:00 AM

–

5:00 PM

Friday

:

10:00 AM

–

4:00 PM

Saturday

:

Closed

Sunday

:

Closed
Schedule an Appointment